Online Hypnotherapy Courses Available Worldwide
Certified Online Hypnotherapy Practitioner Courses
Online Hypnotherapy Training Courses Available Worldwide
NO TIME LIMIT FOR COMPLETION!
Completion is through Independent Online Study and Students Can Opt to Attend 'Webcast Live Streamed' Classroom Face to Face Hypnotherapy Training.
Certificate in Clinical Hypnotherapy (CHyp) & Diploma in Clinical Hypnotherapy (DHyp)
The CHyp and DHyp hypnotherapy courses will appeal to currently qualified therapeutic hypnosis practitioners looking to expand their learning or meet their requirements for Continuing Professional Development (CPD). These courses will also appeal to international students unable to physically attend our classroom based hypnotherapy training courses in the UK, Singapore or Malaysia. These courses are validated by the International Hypnotherapy Register (IHR), so our graduates are eligible to become members of the International Hypnotherapy Register (IHR) and if you have completed 120 hours of classroom based training elsewhere then you may be eligible to become full members of the GHR and the UK Complementary & Natural Healthcare Council (CNHC) as a recognised practitioner in the UK.
For more detailed information and the CHyp course syllabus click here: Practitioner Certificate (CHyp)
For more detailed information and the DHyp course syllabus click here: Practitioner Diploma (DHyp)
Webcast Live Streamed Online Hypnotherapy Training Courses Direct From Our London Classroom
The ICCHP now offers our international online students the option of attending our live London classroom teaching sessions from the comfort of home. Students can opt for this hybrid study option, which provides a more dynamic learning experience.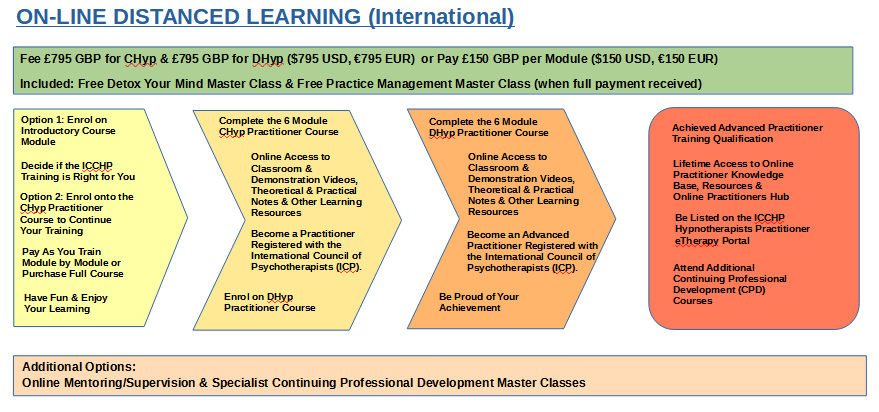 Multi Award Winning Training Course Provider
Our exclusive online hypnotherapy learning portal has the largest hypnotherapy knowledge base available anywhere, it includes many thousands of pages of hypnotherapy learning material, video recordings and other resources. Our unique position has helped us to be recognised as the "Best Hypnotherapy Training Courses Provider 2020/21", by a number of independent business and training enterprise awarding bodies.