Hypnotherapy Qualifications - Accreditations & Awards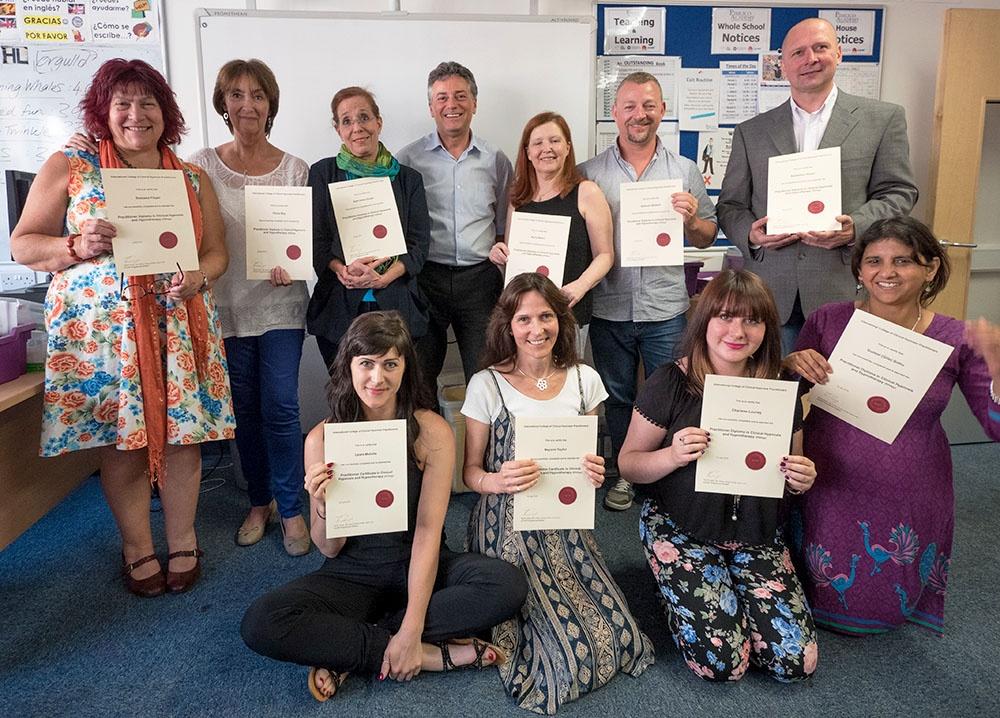 The ICCHP offers students a range of courses leading to specific qualifications, so that students can select the course which best fulfils their needs. Students planning on becoming professional hypnotherapy practitioners in the UK will start with the classroom based PCHyp and then go on to the PDHyp. Existing hypnotherapy practitioners looking to gain additional training and qualifications, or students outside the UK wanting to complete the ICCHP programme will start with the CHyp and then go on to the DHyp. Students who are not planning on becoming practitioners, or students just interested in learning more about hypnotherapy can enrol on our free theory course. Our master classes are open to all students and will appeal to those seeking additional knowledge and training, or those wanting to fulfil Continuing Professional Development (CPD) requirements.
ICCHP graduates are proud to receive their prestigious diplomas, signed by Professor Ursula James, Visiting Teaching Fellow at Oxford University Medical School.
PCHyp
This Practitioner Certificate course is classroom and online based and includes the following modules:
Introduction to Clinical Hypnosis and Hypnotherapy
Introduction to Hypnotherapy Practice
Behavioural Hypnotherapy Practice
Psychodynamic Hypnotherapy Practice
Indirect Conversational (Erickson) Hypnotherapy Practice
Applied Hypnotherapeutics
The PCHyp is undertaken both digitally online and in the classroom. Upon completion, clinical practice can be commenced under the supervision of a clinical supervisor or mentor. With a PCHyp, you will be able to practice as a 'student' practitioner of hypnotherapy, as a student member of the GHR and/or IHR.

You are also eligible to take the advanced PDHyp course to expand your hypnotherapy horizons, which most students go on to do.
| | | |
| --- | --- | --- |
| | | |